First, a disclaimer (and it's one we use every time): "A paper aircraft can always beat a real aircraft when you compare them," says the head of one aircraft manufacturer. "Until an aircraft is flying, it is unfair to compare it with an aircraft that is still being designed." Comparing the G500 and the Falcon 5X with the 11 year old Global 5000 seems a bit unfair.
Maximum range

Source: Manufacturers/Corporate Jet Investor
Maximum range on a long-range aircraft might be a moot point for most of the year when the aircraft's normal mission profile will be trips around two hours or less, but an extra 200 nm on those occasions where the aircraft is used to its full capabilities will sure be appreciated by those in the back.
While 200 nm might not seem like a great deal, on a transatlantic flight to Paris, it might mean the difference between having to stop over in London for fuel, or flying directly to the destination (although wind could change that). Saying that, the G500 can fly further than 650 nautical miles further than the extremely popular G450 (Gulfstream has sold more than 350) so it is an upgrade for existing G450 owners.
Cabin
| | | | | |
| --- | --- | --- | --- | --- |
| Aircraft | Width(m) | Length(m) | Height(m) | Volume(cu-ft) |
| Falcon 5X | 2.58 | 11.79 | 1.98 | 1,766 |
| Gulfstream G500 | 2.41 | 12.65 | 1.93 | 1,715 |
| Global 5000 | 2.41 | 12.41 | 1.88 | 2,002 |
Source: Manufacturers/Corporate Jet Investor
The cabin can be one of the most important factors in choosing a business jet and there is very little difference here – just 9cm. All three of them are roomy and comfortable. Indeed one buyer told us they prefer the smaller G450 cabin where they do not need to raise their voice to speak.
Whilst the G500's cabin is the longest, it has the smallest volume of all the types we're looking at.
Maximum speed
Source: Manufacturers/Corporate Jet Investor

Taking its lead from Gulfstream's flagship G650, the G500 has a category best top speed of Mach .925, tying the new Gulfstream's top speed with the G650, and becoming the joint second fastest business jets, after the Cessna Citation X+.
Gulfstream says its customers wanted speed, and while that becomes a big advantage over longer distances, on shorter trips that difference becomes negligible.
Baggage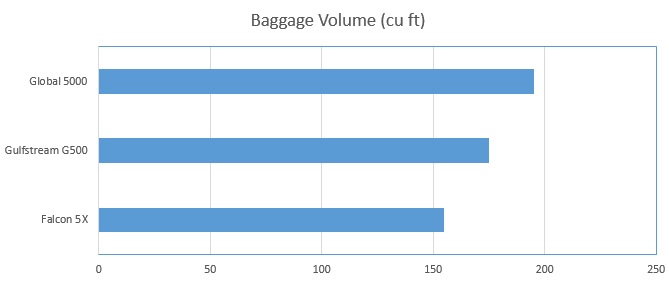 Source: Manufacturers/Corporate Jet Investor
The Global 5000 has more space for baggage than the G500 and the Falcon 5X.  Although all of them have plenty of room for most travellers.
Price
Source: Manufacturers and brokers
The new G500 is expected to cost $43.5 million, a good $1.5 million less than its closest competition, although tough negotiators may be able to get lower deals with all three manufacturers.
When can I have one?
Bombardier delivered the first Global 5000 in October 2005 and has so far delivered over 200 of the type. Gulfstream should deliver the first G500 at the end of this year. The Falcon 5X should have been in service by now, but the issues with the Silvercrest engines pushed this back several years. Dassault says the first delivery should be in 2020.
Source: CorporateJetInvestor